PARCO NATURALE REGIONALE DEL BEIGUA e Beigua Geoparco
NATURAL PARK OF BEIGUA and Beigua Geopark

LOCALIZZAZIONE E CONFINI / LOCATION AND BOUNDARIES

PARCO


Il territorio del Parco e' costituito da un'area principale disposta parallela alla costa tra Varazze ed Arenzano unita ad un settore orientale che si estende nell'entroterra fino quasi a Rossiglione.
Oltre a questa area principale, il Parco del Beigua e' costituito anche da altre porzioni minori separate, situate in prossimitÓ del corso del Torrente Orba presso Tiglieto, del corso del Torrente Orbarina presso Urbe, e presso la Foresta Demaniale Deiva a Sassello.
L'area principale e' distribuita lungo una "spina dorsale" costituita da un crinale esteso per 27 km che per pi¨ di 16km corre molto vicino al mare quasi parallelo alla costa.


GEOPARCO
Il Beigua Geoparco comprende un territorio molto piu' vasto che si estende in "altezza" dai confini regionali liguri settentrionali tra Sassello e Pratorondanino fino a scendere a sud lungo la linea costiera tra Varazze e Voltri, mentre in lunghezza parte dal paese di Mele e raggiunge Stella.

PARK


The Park area consists of a main area arranged parallel to the coast between Varazze and Arenzano, coupled with the eastern sector, which extends inland to Rossiglione.
In addition to this main area, the Beigua Park also has other minor portions separated situated at the Orba River near Tiglieto at the Orbarina River near Urbe, and at Foresta Demnaiale Deiva near Sassello.
The main area of the park is distributed along a "backbone" consisting of a ridge extended to 27 km, which for more than 16km runs very close to the sea almost parallel to the coast.


GEOPARK
The Beigua Geopark covers a much larger territory, extending in height, from the northern borders of Liguria, between Redwing and Pratorondanino up to the coastline between Varazze and Voltri, while in length from the village of Mele and reaches the town of Stella.


Localizzazione / Location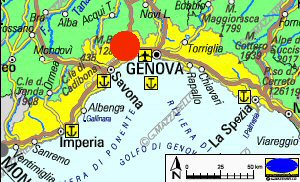 Carta dei confini / Boundaries map