DIDATTICA
TEACHING MANUALS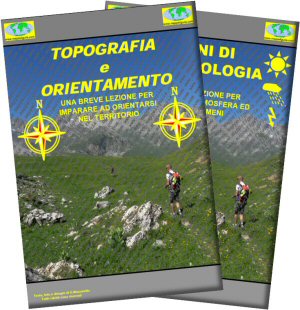 ---

Una sezione dedicata ad alcuni argomenti utili per chi pratica attivita' all'aria aperta.
Ogni dispensa e' costituita da un fascicolo formato A4 (210x297 mm) comodo e pratico, che tratta le varie materie in modo sintetico e semplificato in modo da essere comprensibile a tutti.
Per ogni argomento e' anche disponibile (su richiesta) la versione da proiettare, realizzata con molte animazioni che chiarificano ulteriormente i concetti esposti.
Al momento le DISPENSE sono in lingua italiana. Sto lavorando per tradurle in inglese.

This section covers some useful topics for those who practice outdoor activities.
Each manual consists of a booklet A4 size (210x297 mm) convenient and practical, which explain various topics in a concise and simplified way so as to be understandable to all people.
For each topic is also available (on request) version with slides to be projected, made with many animations that clarify further the concepts
At the moment TEACHING MANUALS are in Italian. I'm working to translate them in English.















NOTA: si declina ogni responsabilita' per eventuali errori presenti.
NOTE: we assume no responsibility for any errors