Collana di carte mini MAPPE CAR
mini MAPPE CAR type maps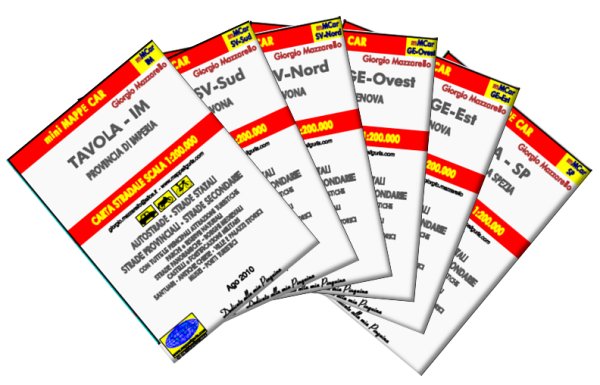 Descrizione

Le mini MAPPE CAR sono una serie di Carte Corografiche a colori di tutto il territorio ligure riportanti tutta la viabilita' stradale.
Ho diviso la Liguria e le zone confinanti in 6 piccole Tavole. Ogni Tavola contiene una mini MAPPA CAR in scala nominale 1:200.000.
Ogni tavola, quando plottata, risulta contenuta in un foglio formato A3 (420x297 mm), comodo e pratico da consultare.
Sono carte molto utili per muoversi in auto, in moto ed in bici.
Utilizzate assieme alle mini MAPPE OUTDOOR ACTIVITIES, permettono di raggiungere facilmente tutti i luoghi di partenza dei vari percorsi escursionistici. L'accesso ad ogni tavola avviene selezionando, provincia ed area geografica interessata.
---
Description

mini MAPPE CAR are road maps in color, scale 1:200.000 of Liguria.
I have divided the Liguria in 6 small sheets.
Each sheet, if printed, is contained in a sheet having a size A3 (420x297 mm), convenient and practical to consult.
Mini MAPPE CAR are useful to travel in Liguria by car, motor-bike and road-bike, and are very useful to reach starting places of hiking trails showed on mini MAPPE OUTDOOR ACTIVITIES.
---
Quadro di unione delle varie tavole
Overall view of sheets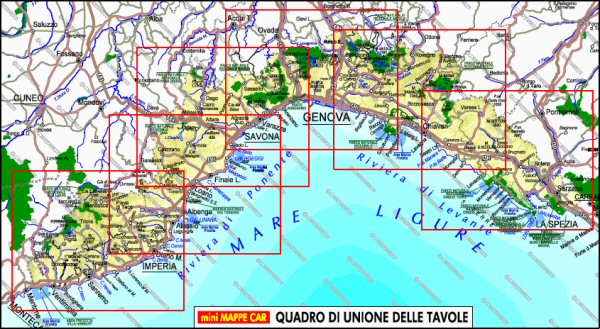 Ogni tavola e' memorizzata in bassa definizione con la sola possibilita' di essere visualizzata sullo schermo.
E' inibita sia la possibilita' di estrazione del contenuto sia la possibilita' di stampa.
Tengo a sottolineare che, anche nel caso che qualcuno riesca a disabilitare le protezioni, estrazione e stampa del contenuto delle Tavole sono comunque NON AUTORIZZATE.



Each sheet is stored in low resolution with only the possibility of being displayed on the screen.
Downloading and printing are locked and not allowed.