TRAIL MAPS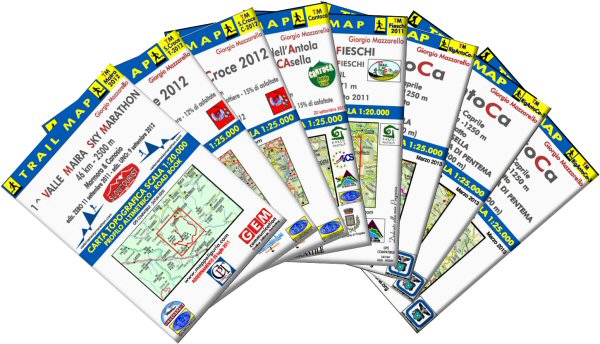 ---
Introduzione

In questi ultimi anni camminando per i monti mi e' capitato spesso di incontrare dei "matti" che, con un paio di scarpette colorate ed uno zainetto microscopico, correvano per i sentieri, magari allenandosi per qualche gara di TRAL. Un poco per curiosita', un poco per amicizia con qualche Trailer organizzatore di gare, ho iniziato ad avvicinarmi a questa strana disciplina, non tanto per correre sui sentieri, ma per preparare le carte per alcune gare. E' cosi' che ho creato una vera e propria collana di carte che ho chiamato TRAIL MAP.
---
Overview

In recent years, walking in the mountains, I often meet some "crazy" with a colorful pair of shoes and a small backpack, which, running along narrow mountain footpaths. A little curiosity, a little friendship with some Trailer organizer of races, I started to get closer to this strange discipline, not so much to run on the trails, but to prepare maps for some races, creating a series of maps that I have called TRAIL MAP.
---
---
Organizzare una gara di Trail-Running

Organizzare una gara di Trail-Running e' un'operazione tutt'altro che semplice, ed e' ben piu' complessa ed impegnativa rispetto all'organizzare una gara di maratona su strada.
Oltre all'aspetto di prevedere ed organizzare tutti i servizi di tipo logistico (partenza, docce, ristoro finale ecc.) e burocratico (iscrizioni, assicurazione, ecc.), il correre su sentieri di montagna, che per loro natura risultano per molti km di difficile raggiungibilita' da parte degli eventuali soccorsi, rendono particolarmente importante la pianificazione del percorso, che deve associare caratteristiche di bellezza e sicurezza.
Sono principalmente questi i motivi che rendono la Carta Topografica del Territorio, lo strumento base per la progettazione di qualsiasi gara.

Dalla Carta Topografica derivano tutta una serie di informazioni che possono essere riassunte in:
- Tracciato di Gara;
- Profilo Altimetrico;
- Road-Book;
- Impianto di Sicurezza;
- Apparato di Gara;

Tutto cio' costituisce il fondamentale ed indispensabile bagaglio di dati ed informazioni del tracciato di gara e del territorio circostante per poter pianificare e gestire una gara di Trail-Running con il corretto livello di sicurezza necessario.
Queste informazioni si possono raggruppare in una serie di documenti che ogni gara dovrebbe avere e che sono:
- Carta Topografica della Gara
- Profilo Altimetrico
- Road-Book con per ogni punto del percorso Distanza-Quota-Tempo a varie velocita' medie
- Traccia GPS
- Descrizione Dettagliata del Percorso

Questi documenti dovrebbero essere utilizzati per gestire la gara durante lo svolgimento e dovrebbero essere anche consegnati ad ogni concorrente.
---
Organize a Trail-Running race

Organize a Trail-Running race is not an easy task, and it is far more complex and challenging respect a marathon race on the road.
In addition to provide and organize all the services of logistics (departure, showers, final refreshment etc.) and bureaucratic (registration, insurance, etc.), running along the mountain paths, which by their nature are difficult to reach for many miles by any rescue means, make route planning a very important task to obtain a beauty and safety race.
These are the main reasons why the Topographic Map of the Territory is the basic tool for the design of any race.

Following race data are carried out by Topographic Map:
- Race path;
- Height profile;
- Road-Book;
- Safety plat;
- Race plant;

All this constitutes the fundamental and indispensable collection of data and information of the race course and of the surrounding area, in order to plan and manage a race of Trail-Running with the correct level of safety.
This information can be summarized in a set of documents that each race should have and which are:
- Race Topographic Map
- Height profile
- Road-Book with, for each point on the path, Distance-Altitude-Time at different average speeds
- GPS track
- Detailed description of the route

These documents should be used to manage the race during the course, and they should also be given to each competitor.
---
---
Descrizione delle TRAIL-MAP

Le TRAIL MAP non sono altro che delle carte topografiche, a tutti gli effetti analoghe alle carte escursionistiche, con in piu' indicate tutte le informazioni necessarie ad i concorrenti per effettuare il percorso di gara. Sono quindi carte con:
Tutto il percorso di gara ben evidenziato;
Tutte le varie tappe significative del tracciato;
Tutti i punti di rifornimento alimentare ed idrico;
Tutte le varie postazioni presidiate dal personale della sicurezza lungo il percorso;
I vari cancelli con il relativo orario di chiusura;
Per una gara di Trail, oltre alla carta del tracciato di gara, e' anche necessario fornire ai concorrenti sia informazioni circa la difficolta' del percorso sia un dettagliato Road-Book. Per soddisfare queste necessita' ogni TRAIL MAP che preparo e' anche corredata sia del relativo "Profilo Altimetrico" che di un dettagliato "Road-Book". Profilo Altimetrico e Road-Book riportano anche tutti i riferimenti indicati sulla carta in modo che ogni punto significativo del percorso e' individuabile sia sulla carta che su Profilo Altimetrico e Road-Book. Ovviamente tutto il tracciato di gara e tutte le informazioni presenti nelle TRAIL MAP sono sempre tracciate sulla carta dopo lunghe e ripetute verifiche sul territorio tramite strumenti GPS.
Su alcune TRAIL MAP che ho disegnato non sono riportate le postazioni presidiate, i punti di ristoro ed i cancelli ma e' riportato solo il percorso.
Un'altra informazione importante per l'organizzazione di una gara di Trail running è conoscere approssimativamente l'orario di transito dei concorrenti presso le varie postazioni presidiate. E' per questo motivo che a volte, assieme alla TRAIL MAP, preparo anche un Road-Book con, per ogni postazione e punto significativo del percorso, informazioni su:
- Distanza percorsa dalla partenza
- Quota altimetrica
- Dislivello coperto dalla partenza
- tempo di transito a varie velocita' medie
---
TRAIL-MAP Description

TRAIL MAP are topographic maps, similar to hiking maps, shown with all the information necessary for competitors to make the race course. TRAIL MAPS are then maps with:
All the race route highlighted;
All the various significant stages of the path;
All food/water supply points;
All the various stations manned by security personnel along the route;
The various gates with the corresponding closing time;
For a race of Trail, in addition to the map of the race route, it is also necessary t o give the competitors also information about the difficulty of the course as well as a detailed road book. For this reason, each TRAIL MAP is equipped with and elevation profile of the Road Book. All this information are verified on the territory with GPS.
Another important information for the organization of a competition trail running is to know about the transit time of the competitors at the various manned stations. For this reason that at times, together with TRAIL MAP, I prepare a road book with, for each location and significant point of the route, information about:
- Distance traveled from start
- Altitude
- Heigh difference covered from start point
- transit time to different average speeds