PARCO NATURALE REGIONALE DELL'ANTOLA
NATURAL PARK OF ANTOLA

---
IL PARCO IN POCHE FRASI

Un territorio collinare-montano che comprende le valli Scrivia e Trebbia dove coesistono aspetti geomorfologici profondamente differenti.
Dalle Biurche (torrioni di roccia costituiti dal conglomerato di Savignone) si passa ai piu' dolci pendii di calcare marnoso della principale vetta del parco, il monte Antola (1597m).
Davvero spettacolare il famoso Castello della Pietra, gioiello medievale incastonato tra due speroni di roccia, ed il panoramico crinale dell'Antola dove di recente e' stato realizzato un moderno rifugio ed un piccolo osservatorio astronomico.
---
THE PARK IN FEW WORDS

A land of hills and mountains which includes the valleys Scrivia and Trebbia, where geomorphological aspects profoundly different coexist .
From the towers of rock Biurche, you go to the more gentle slopes of limestone marl of the main peak of the park, Mount Antola (1597m).
The famous Castello della Pietra is truly spectacular, a medieval jewel nestled between two c liffs. While on the panoramic ridge dell'Antola, was recently made a modern shelter and a small astronomical observatory.
---

---

CARTE ESCURSIONISTICHE "mini MAPPE OUTDOOR ACTIVITIES" RELATIVE AL
PARCO NATURALE REGIONALE DELL'ANTOLA
SELEZIONA LA TAVOLA DA VISUALIZZARE
HIKING MAPS "mini MAPPE OUTDOOR ACTIVITIES" RELEVANT TO
NATURAL PARK OF ANTOLA
SELECT THE SHEET TO VIEW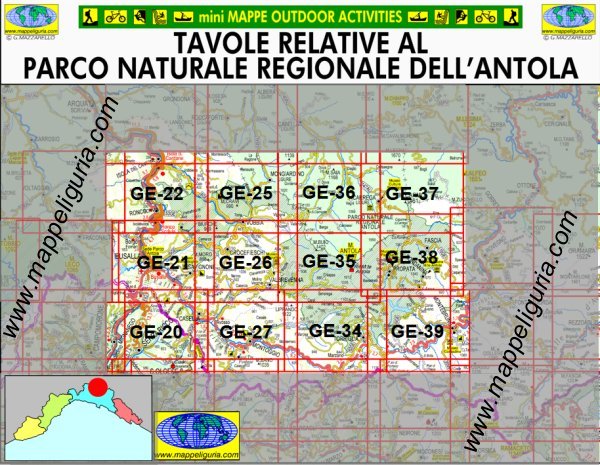 Sei interessato a questo gruppo di carte? Richiedi ulteriori informazioni
Are you interested in this group of maps? Write me