Collana di carte mini MAPPE CAR
mini MAPPE CAR type maps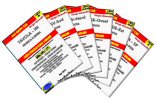 ---
ESEMPIO SCARICABILE DI UNA TAVOLA
EXAMPLE OF A SHEET-MAP FOR DOWNLOAD
---

ATTENZIONE:
L'uso di questo materiale DEVE ESSERE PER SCOPI STRETTAMENTE PERSONALI.
No pubblicazione su siti web e sui media senza autorizzazione scritta

WARNING:
The use of these documents MUST BE FOR STRICTLY PERSONAL PURPOSES.
No publication on websites and on the media without written permission

---

Versione da stampare su carta in formato A3

Clicca sull'immagine sottostante per il downlonad del file .jpg (7 Mb)

Format to print on a A3 paper

Clik on below image for download file .jpg (7 Mb)

NOTE sulla Tavola in formato .jpg
File di esempio di una Tavola in ALTA DEFINIZIONE (Tavola GE-Ovest), delle mie Carte Stradali collana mMCar, parzialmente ofuscata per ovvi motivi, che illustra il livello di dettaglio di questa tipologia di Carte Corografiche. Stampando questo files su carta formato A3 al 100% della dimensione, si ha una carta in scala 1:200.000.

NOTICE about Sheet-map .jpg format
Example files concerning a HIGH RESOLUTION Sheet-map (Sheet Ge-Ovest), of my Road Maps mMCar type. This file, which is partially hidden for obvious reasons, shows the level of detail of this type of Maps. Printing this file on A3 paper size, with 100% of the dimension, you have a map scale 1:200.000.