Carte Escursionistiche Collana "mMOA"
Hiking Maps "mMOA" type
Provincia di La Spezia / La Spezia district
Costa Ponente Tavola SP-23 / West Coast Sheet SP-23
---
Titolo Tavola / Map-Sheet Title:
LIGURIA
Lerici - Portovenere - Le Grazie
Isole Palmaria, Tino e Tinetto
Golfo dei Poeti - Baie di Portovenere e di Lerici
Parco Naturale Regionale
di Portovenere (parte sud)
SIC Isola Palmaria - SIC Isole Tino e Tinetto
SIC Portovenere - Riomaggiore - San Benedetto
Falesia del Muzzerone - Sentiero 5 Terre
Sentieri della Palmaria - Alta Via del Golfo
Itinerario Verde Azzurro
Sentiero Liguria
ATTENZIONE:
La numerazione dei sentieri di tutta la provincia di La Spezia sarÓ modificata per uniformarla a quanto previsto nella REL (Rete Escursionistica Ligure).
A tutto il 2014 tale modifica non era stata ancora effettuata, quindi la presente carta riporta la vecchia numerazione.
WARNING:
The numbering of the foot-paths of all the province of La Spezia will be changed according to the REL (Network of Ligurian Hiking Paths).
At the end of 2014 this change had not yet been carried out, therefore, this map shows the old numbering.

---

Inquadramento territoriale della Tavola
General view of Map-Sheet area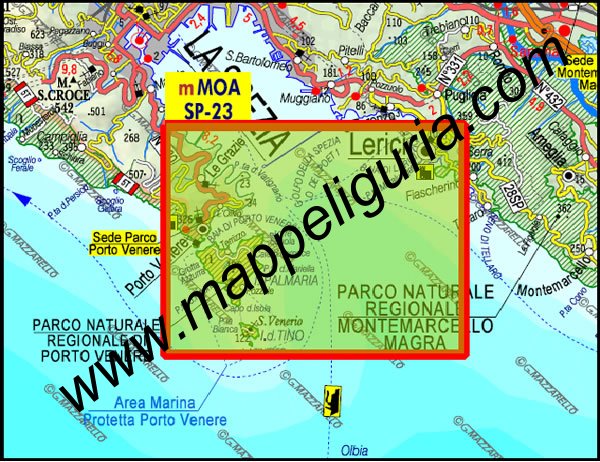 ---
---

Anteprima in bassa risoluzione della Tavola
Map-Sheet preview with low resolution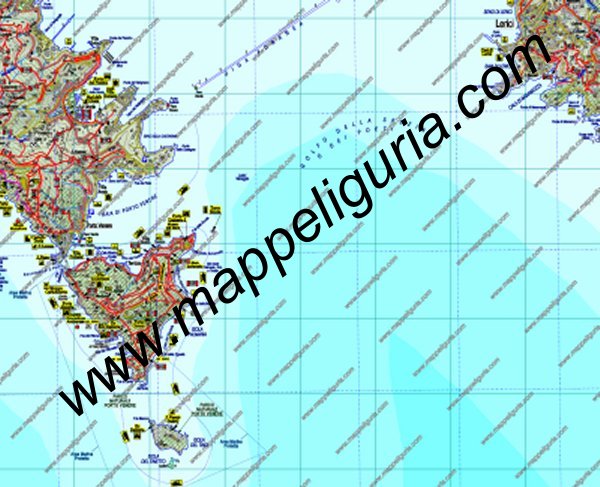 ---

Tabella Segni Convenzionali / Conventional Signs Table

LEGGI ALCUNE NOTE SU QUESTE CARTE / READ SOME NOTES ON THESE MAPS
Sei interessato a questa carta? CONTATTAMI
Are you interested about this map? WRITE ME
CONDIZIONI D'USO delle immagini presenti sul sito contenenti le carte
TERMS OF USE of map pictures on web-site