RISERVA NATURALE STATALE AGORAIE DI SOPRA E MOGGETTO
NATURE RESERVE OF AGORAIE AND MOGGETTO

---
LA RISERVA IN POCHE FRASI

La Riserva, che e' situata in ambiente di foreste tipicamente alpino del Parco dell'Aveto, e' costituita da una serie di laghetti di origine glaciale che ospitano fauna e flora ed uniche tipiche di climi molto freddi.
Nel fondo del lago degli Abeti sono presenti dei tronchi vecchi di 2600 anni.

Per la delicatezza dell'ambiente non è consentito l'accesso libero ma solo su richiesta.
---
THE RESERVE IN FEW WORDS

The reserve, which is located in a typical alpine forests of the Park dell'Aveto, consists of a series of glacial lakes which house a unique flora and fauna, typical of very cold climates.
In the bottom of the lake of Abeti, there are some tree trunks older than 2600 years.
Due to the sensitivity of the environment is not allowed free access but only on request.
---

---

CARTE ESCURSIONISTICHE "mini MAPPE OUTDOOR ACTIVITIES" RELATIVE ALLA
RISERVA NATURALE STATALE AGORAIE DI SOPRA E MOGGETTO
SELEZIONA LA TAVOLA DA VISUALIZZARE
HIKING MAPS "mini MAPPE OUTDOOR ACTIVITIES" RELEVANT TO
NATURE RESERVE OF AGORAIE AND MOGGETTO
SELECT THE SHEET TO VIEW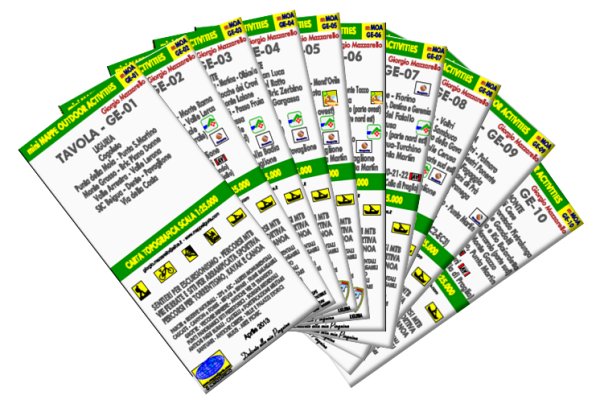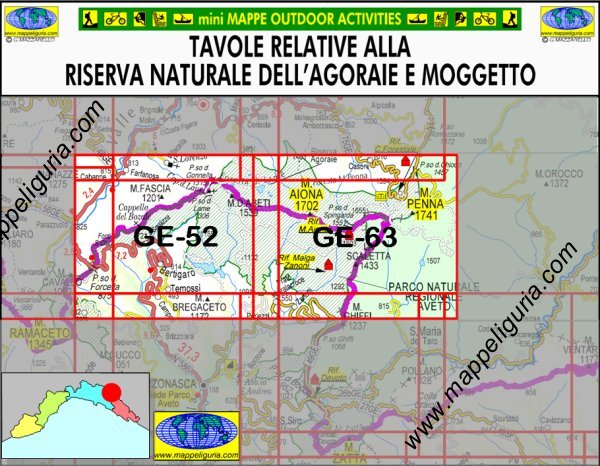 Sei interessato a questo gruppo di carte? Richiedi ulteriori informazioni
Are you interested in this group of maps? Write me
---

ALCUNI PERCORSI NELLA RISERVA

SOME ROUTES IN THE RESERVE

---

TREKKING

IN LAVORAZIONE / WORK IN PROGRESS

---

MTB

IN LAVORAZIONE / WORK IN PROGRESS