PARCO NATURALE REGIONALE DI BRIC TANA
NATURAL PARK OF BRIC TANA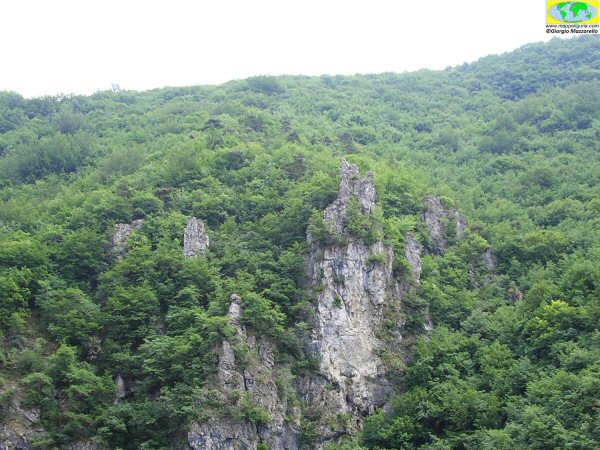 ---
IL PARCO IN POCHE FRASI

E' situato in due piccole aree montuose nel territorio di Millesimo tra i 500 ed i 700m di quota. L'erosione dell'acqua del fiume Bormida e dei suoi affluenti ha formato guglie di calcare e fenomeni carsici come doline e grotte.
Tutt'attorno e' presente un ambiente coperto da castagni e boschi misti.
La presenza dell'uomo preistorico e' testimoniata da ritrovamenti di incisioni rupestri e menhir.

Interessante il piccolo canyon del rio della Feia e la valletta chiusa dei Tre Re.
---
THE PARK IN FEW WORDS

The Park is located in two small mountainous areas in the municipality of Millesimo, between 500 and 700m above sea level. The erosion of the river Bormida and its tributaries, has formed pinnacles of limestone and karst features such as sinkholes and caves.
All around there is a space covered by chestnut and mixed forests.
The presence of prehistoric man is attested by discoveries of stone carvings and menhirs.
The small canyon of the river Feia and the valley of the Three Kings is very attractive.
---

---

CARTE ESCURSIONISTICHE "mini MAPPE OUTDOOR ACTIVITIES" RELATIVE AL
PARCO NATURALE REGIONALE DI BRIC TANA
SELEZIONA LA TAVOLA DA VISUALIZZARE
HIKING MAPS "mini MAPPE OUTDOOR ACTIVITIES" RELEVANT TO
NATURAL PARK OF BRIC TANA
SELECT THE SHEET TO VIEW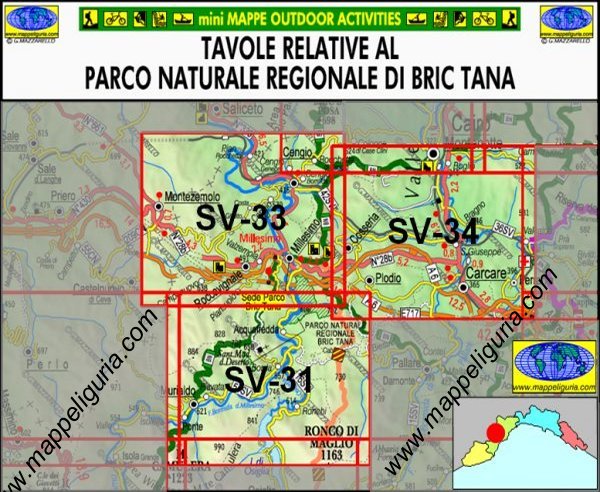 Sei interessato a questo gruppo di carte? Richiedi ulteriori informazioni
Are you interested in this group of maps? Write me
---

ALCUNI PERCORSI NEL PARCO

SOME ROUTES IN THE PARK

---

TREKKING

IN LAVORAZIONE / WORK IN PROGRESS

---

MTB

IN LAVORAZIONE / WORK IN PROGRESS